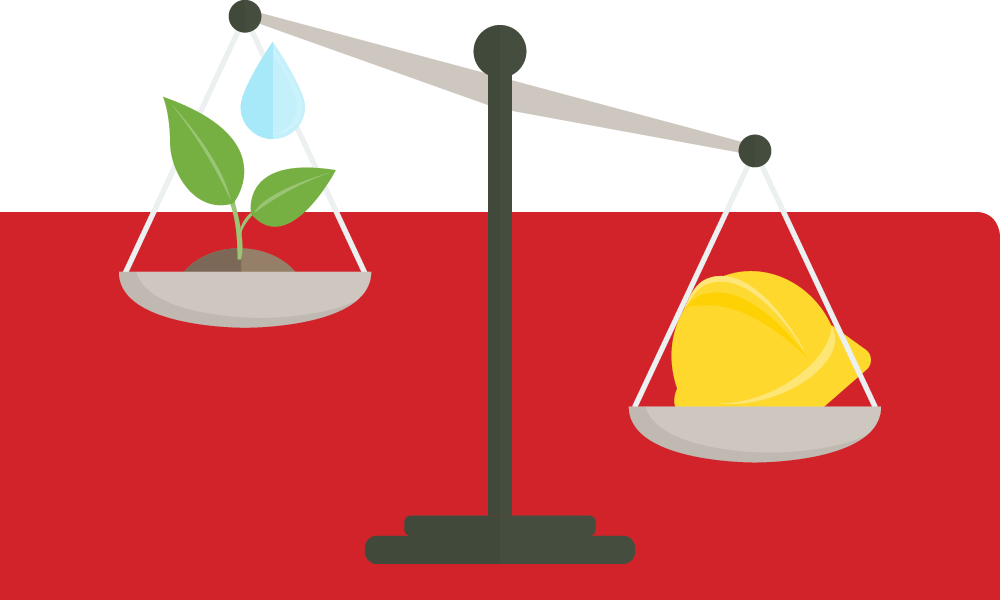 There is increasing pressure on resources companies to obtain a "social licence to operate" as individuals become more invested in what's happening in and around their communities.
But it's not just about satisfying communities; investors also want to see companies managing their sustainability risks.
Last year the importance of sustainability was highlighted when Sandfire Resources and others settled legal action against CAER in regards to negative reports about its sustainability actions.
CAER, short for Corporate Analysis Enhanced Responsibility is an Australasian provider of independent research into the environmental, social, governance (ESG) and ethical performance of companies. It conducts and publishes research aimed at providing investors with independent assessments of companies.
In a 2014 report, CAER marked Sandfire down for its environmental record, indigenous relations, lack of female directors and ethnic managers, and for not showing evidence of family-friendly and human rights policies.
While CAER later admitted it had omitted important information about Sandfire and had failed to contact the company for two years prior to the report, the damage was still significant.
As a result of the report, the Australian National University divested its holdings in seven resource stocks – one of which was Sandfire Resources – to align with the university's "Socially Responsible Investment Policy". All seven resource companies who scored poorly in the report endured share price losses.
This demonstrates the importance of regularly communicating sustainability performance as you can't rely on others to accurately tell your story for you.
A company's sustainability report should be about providing accurate information on a company's longer-term investment value, potential liabilities and general risk profile with respect to the environment, social and governance issues; ensuring this information is available to stakeholders.
When undertaking sustainability reporting, companies need to make sure they are producing reports which detail information in line with a certain standard.
Each year KPMG conducts a Corporate Responsibility Survey, analysing 4,500 companies from 45 countries. The survey analyses the quality of reporting based on content, the inclusion of carbon data and the development of global trends.
Of the fifteen sectors surveyed, mining took the gong for being the industry with the highest reporting rate, sitting at around 85 per cent. Oil and gas follow closely behind in 5th, placing it among the top nine industries to have a reporting rate of 75 per cent or more.
So how does Australia fare? According to KPMG's survey, Australia's reporting rate has increased from 51 per cent in 2013 to 59 per cent in 2015. It is fairly safe to assume that this trend will continue to rise.
The information included in sustainability reports is generally governed by a set of guidelines or principles. Global Reporting Initiative (GRI) remains the most popular voluntary guideline worldwide, with 60 per cent of the surveyed companies using the GRI.
Although there are easily accessible guidelines and principles available, there are common mistakes that companies make when reporting. Platform Director Kirsty Danby says that it is important to remember that quantity does not mean quality.
"I have seen companies create long 'encyclopaedic' reports because they believe that this is what their stakeholders want."
Here are Kirsty's top three tips for making sure your sustainability report is up to scratch:
Be transparent and balanced
Address issues of concern to your stakeholders and include details of your economic, governance, environmental and social performance
Measure performance consistently


This allows you to make fair comparisons year on year to access your performance and improvements.

Use words and images
Your stakeholders' time is precious so don't make them wade through miles of text. Use images, charts and infographics where possible to convey complex information.
Platform has been working with Newmont Asia Pacific to produce their sustainability report, Beyond the Mine since 2014. You can take a look at Beyond the Mine 2014 here. We also advise our clients to consider the GRI guidelines when building websites, ensuring the information they capture and share lines up with global sustainability best practice.
Platform was also pleased to see Sandfire and the Independence Group develop their inaugural sustainability reports, enabling sustainability performance to be readily available to the investment community and stakeholders.
Get in touch to discuss how we can support your business' sustainability reporting needs at.